The Trustees of the Cedar County Library District (CCLD) will be accepting bid proposals for a surplus copier.  Bid specifications shall be available at each library after October 27th, 2020, during business hours.
All proposals shall be returned to the Cedar County Library Office at 717 East Street, Stockton, MO 65785, prior to 12:00 noon on November 20th, 2020.
The Trustees of Cedar County Library District will consider the proposals at a scheduled meeting on November 23rd, 2020.
The Trustees of the Cedar County Library District reserve the right to refuse any or all bids or portions of the bids.
The bid is for a used copier and extra ink.  The copier was used in our library, and we make no claims or promises to length of how it will last.  This copier is approximately 8 years old.  It is a Canon C-2020 ImageRunner Advance.  It comes on a cabinet, and has two paper drawers.  Extra ink is shown in picture.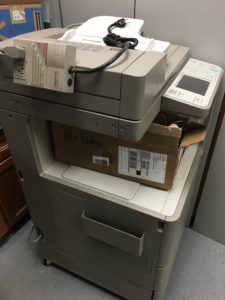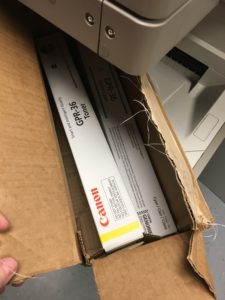 If you have any questions, please email Elaina Daniels, CCLD Director, at elaina.daniels@cedarcountylibrary.org or call the library at 417-276-3413.